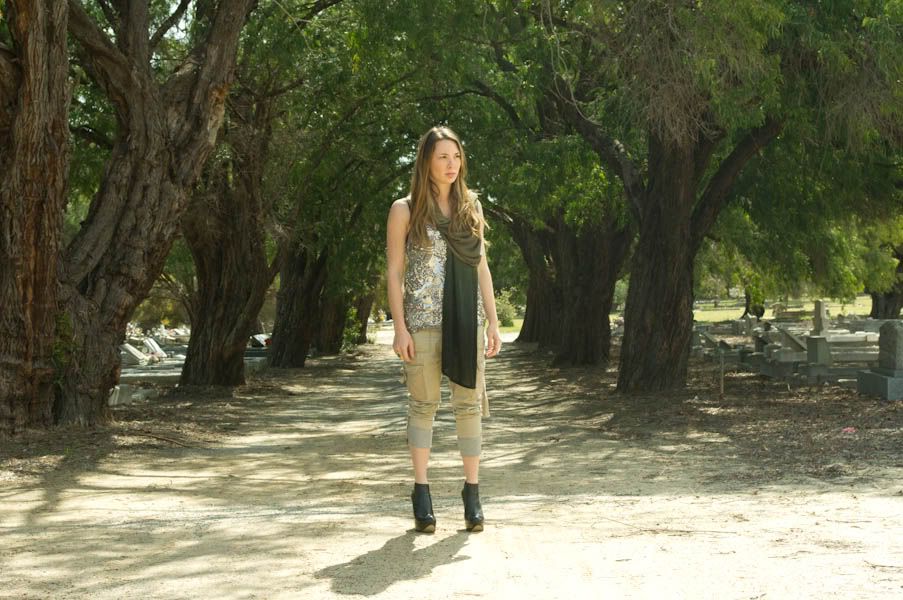 (Top: Sportsgirl. Pants: Topshop. Boots: Topshop. Scarf: Kirrily Johnston.)
Yes those are gravestones in the background. There is a graveyard across the road from Robert's house and on the other end is the train station to get to the city. If you have to start work in the city at 6:45am, its a long, cold, dark and scary walk. And if you're drunk after a night out in the city, its no picnic getting home. I shit myself every time... why is it scary walking through a grave yard at night? I keep telling myself that the dead people aren't going to jump out and grab me but it doesn't help.
Robert bought this scarf for my birthday. I think he did well. Its so wide and blanket-y.... and I love the colours of the dip-dye. I like to throw it over everything I own in my closet, and just take it off when I get too hot. But it's by far the most expensive accessory I own so I can't just throw it in my bag with all the other crap that lives in there... no matter how tempting.